Helps prevent Lightning & Surge Damage Replaces: Surge Suppressors, Surge Protectors, and other Surge Protective Devices (SPD)
MO 302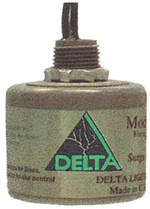 Weather Proof N-4
Case Dimensions:
2 1/4" Diameter
2 1/4" High

MO302
For 120 / 250 VAC, Single Phase.

MO302DC
For 175 / 350 VDC, for PV and other DC systems
MO 303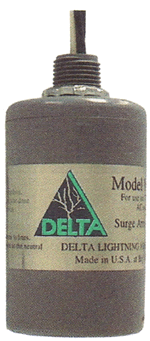 Weather Proof N-4
Case Dimensions:
2 1/4" Diameter
4 1/2" High

For 120 / 208-240 VAC, Three Phase.
Specifications

Type of Design
Metal Oxide Varistor
Firing Voltage
Sparkover Voltage
VPR Voltage
L-L 480V

L-N-240 V
Maximum current L-N
20,000 amps
Maximum joules L-N
300 joules
Tested to
NEMA C62.11
Category B & C and Type 1 & 2
Leads
18" #12 THHN
Response Time
5 nanoseconds
SCCR
10k Amps
Locknut and Washer furnished
1/2" Nipple Washer & Locknut
INSTALLATION:
Fasten arrestor in place. Use a Delta mounting bracket, part # MB, a pipe strap, or a knockout hole. Connect the black wires to the hot lines at any convenience point load-side of an existing fuse or circuit breaker. Connect the white wire to an existing ground system, the grounded metal frame work of the equipment to be protected, or make a ground source per NEC Article 250.
Electrical work is hazardous. Bad connections can result in fire, injury or death. Installation must only be done by qualified electricians.

In the event that a lightning discharge is so powerful that something has to be destroyed, the arrestor will take the damage. When sufficient heat and stress causes failure, a one inch hole will open at the bottom of the enclosure. Hot silica and plastic bits will be expelled. Installing the arrestor in any approved electrical box will prevent accidental contact with a damaged unit.